I have gotten a lot of emails lately from people asking me if I could help them set up a WordPress blog. I have been holding off on replying to most of them because I knew something big was coming… and that something is here now!
My good friend Mike Paetzold has just released a new service called MyCCBlog. In a nutshell this program will allow you to set up cool WordPress blog with a click of a button. Take a look at this video from Mike and see just how easy it is…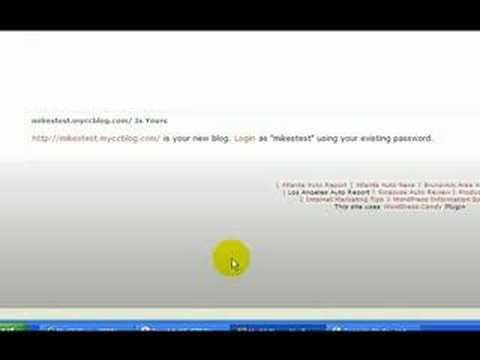 Grab Your Free MyCCBlog Here!
Of course there are some pros and cons to using a service like this, let's start with the pros.
1) MyCCBlog is a 100% free service
2) It's much easier to use than other free blog services like Blogger.
3) Your blogs will have better SEO than say a Blogger blog.
4) You have more control over the content, look and feel of your blog
Now there are some cons to using MyCCBlog, but that is mostly if compare it to hosting your own WordPress blog.
1) You don't get your own domain name
2) There is a limited number of plugins and themes your can use
3) You don't have complete control over the look and feel of your blog
But all in all I would say that MyCCBlog is an amazing free resource and definitely the easiest way to set up a search engine friendly WordPress blog. This can be a good platform if you are new blogging and not familiar with WordPress. If you are an experienced blogger MyCCBlog is an easy way for you to add to your network of blogs.
Grab Your Free MyCCBlog Here!
If you would rather have full control over your blogs and learn how to master WordPress, here are the resources I use…
WordPress Mades Easy: This is a complete tutorial with videos on how to set up your WordPress blog. This is how I learned to do it and I highly recommend the course.
7 Tips To Make Your WordPress Blog Search Engine Friendly: A nifty little ebook with tips on which plugins to use and steps to take in order to optimize your blog for the search engines. It's also a membership site with monthly updates, news and tips on using WordPress – couldn't live without this one.
15 Minute Blog Traffic: Excellent guide on how to get more traffic to your blog with very little effort. If you aren't using social bookmarking and other web 2.0 sites to drive traffic to your blog this is a must read.
WordPress Lessons: In depth training and webinars for people that want to take their blogging to the next level. It's currently closed for new members but you can sign up for the waiting list.
That's it for now, I hope you found the resources helpful and that you enjoy the new free MyCCBlog. Feel free to leave a comment if you have any questions.
Monday, January 21st, 2008 at 9:14 pm and is filed under Reviews. You can follow any responses to this entry through the RSS 2.0 feed. You can leave a response, or trackback from your own site.
Comment on this post (16)
16 comments
Leave a reply