Hi everyone,
As you may know I have been very busy with the launch of my new Floating Action Button, in fact so busy that I never got around to posting about it here at my own blog – Yeah I know that's horrible
Over 3000 people have already secured their access to this powerful new script – and we are getting some excellent feedback from users. It seems like the script is doing exactly what we wanted it to do… increase conversion and response rates. Anyway I'm not going to write a novel about it here, instead I'm going to show you the script in action, plus show you a couple of videos.
First of all you can see the script in action right here at the blog. To the left of here is a Floating Action Button offering you a free ebook download – notice how the script will float and follow you as you read this blog. We did not actually create it with blogs in mind (at first), but the more I've used it the more certain I am that Floating Action Button and blogs are the perfect combo. By the way you should go ahead and download that ebook, I just finished reading it and it's really good.
My good friend Todd Gross has made a nice video showing how easy it is to use the Floating Action Button. You can watch Todd's video here. And below you can see my own FAB video.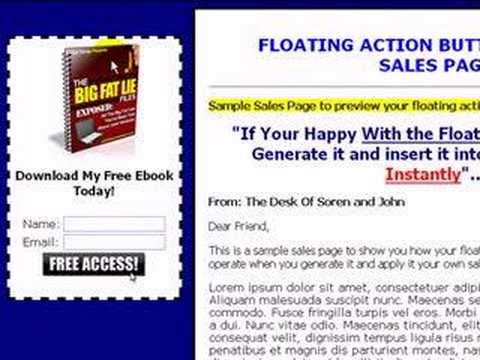 But hey… of course I have nice things to say about my own product. Here's a video I just randomly picked up while grabbing the link for my own video above. It really gave me the warm and fuzzy feeling… Steph I don't know if you read this, but if you do – thank you very much.
We set the price for Floating Action Button at a very low $7 for the first week. You still have a chance to grab it at that price but at 10am EST on Thurday March 13th we will be raising the price. Grab your copy today!
Ok, so now it's your turn. Have you bought Floating Action Button? What do you think? What are your results? Do you have any questions etc. Just put in a comment below – thank you
Tuesday, March 11th, 2008 at 7:58 pm and is filed under News. You can follow any responses to this entry through the RSS 2.0 feed. You can leave a response, or trackback from your own site.